Vitamin C brings a lot of benefits to the body including our skin. If you are a beauty fanatic or wondering how to start taking care of your skin, you should not ignore this wonderful vitamin. Let's join Hairstylishes to find out how to benefit and how to do skincare with vitamin C.
1. Benefits of Vitamin C
* Moisturizing the skin
Probably you will be very surprised to know that vitamin C has a moisturizing effect, right? The truth is that Magnesium ascorbyl phosphate, a derivative of vitamin C, has a water-retaining effect on the skin. This ingredient reduces transepidermal water loss, thereby helping to better retain moisture in the skin.
* Reduce redness and fade acne
Vitamin C also helps to overcome skin inflammation. It helps reduce the redness and inflammation dim bruises after acne quickly.
* Prevent sagging skin
Collagen losing will make the skin less firm, sagging and wrinkles appear. Vitamin C helps to increase collagen production, thereby preventing premature sagging of the skin.
* Safe for most skin types
Vitamin C is a relatively safe ingredient that you can add to your daily skincare routine. It is suitable for all skin types and the majority of users experience no side effects. A small number of cases have experienced mild irritation to very sensitive skin. However, this irritation is quite mild and may disappear after a period of use.
Vitamin C is also safe when combined with other skincare ingredients such as AHAs, Retinols.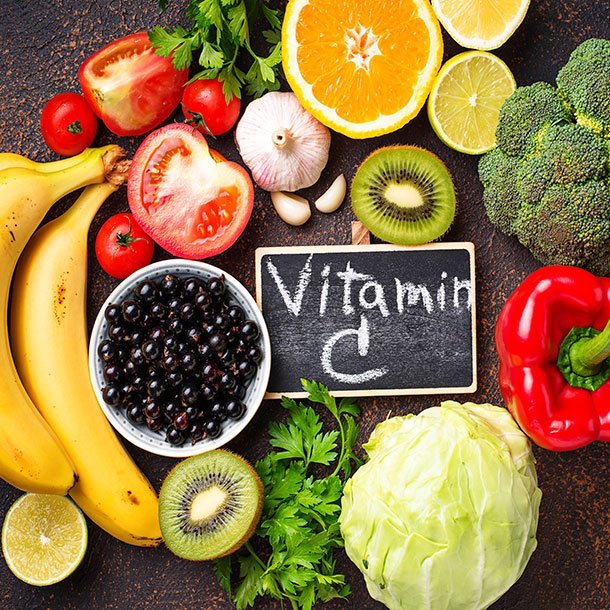 * Skin Brightening
Vitamin C is well known for its skin-lightening properties. It helps to suppress the production of skin pigmentation, so the skin looks brighter.
* Reduces skin hyperpigmentation
Hyperpigmentation caused by sunlight is very common. At that time, on the skin appear spots or brown patches that look less aesthetic. Vitamin C is an ingredient that helps prevent the activity of pigment cells. As a result, it helps to fade brown spots or patches and helps to lift skin tone.
* Wound healing
Vitamin C also helps speed up the healing process of skin lesions such as inflammation, infection, or scarring.
* Protects the skin from the sun
Sun exposure to the skin will produce many oxidizing radicals. These oxidants damage the natural collagen fibers in the skin and cause the skin to age rapidly. Vitamin C is a powerful antioxidant. Using vitamin C helps to protect the skin from damaging oxidative radicals. However, using vitamin C alone does not completely protect the skin from sun damage. You need to equip more equipment and sunscreen to protect the skin in the most perfect way.
* Soothes sunburn
Thanks to vitamin C's red-reducing and cell-renewal effect. It helps to replace damaged cells caused by sunburn into new cells. At the same time, the red inflammation when sunburned is also significantly reduced.
* Reduces dark circles
Vitamin C helps to moisturize the sensitive skin under the eyes. In addition, it also helps to reduce dark spots in this extremely thin eye area.
* Increase collagen
Collagen is one of the important elastic fibers that make up the skin. Studies show that vitamin C is a powerful collagen stimulant.
2. How to use vitamin C serum
Although vitamin C is well tolerated by the skin, any product can cause irritation to the skin. You should adhere to the following guidelines to help you use vitamin C safely.
2.1 Before use
Clean. Remove makeup and wash your face before using any skincare ingredients. An effective cleansing step will help the product penetrate the skin in the best way.
Make sure the product is not oxidized. Vitamin C will oxidize over time. Therefore, you need to carefully check the expiry date, opening time of the bottle and the condition of the product before using. Using oxidized vitamin C will not do any good for our skin.
2.2 During Use
Use a small area at the start. Before using vitamin C on the whole face, you should test it on a small area of ​​skin. This helps test how your skin responds to the product. If after 24 hours you do not see any signs of irritation, you can use it all over the face.
Sunscreen. You should pay attention to protect the skin from the effects of the sun when using vitamin C. This helps vitamin C promote its effectiveness in the best way.
Vitamin C has many benefits for our skin. Please try using it and monitor the results achieved for your skin.