It's no longer a secret that all beautiful curls in the world are unique and need special treatment.
Hair type 2 describes the lightest version of curls, which we know as waves.
There's more to it though, there are three subtypes of number 2 and it's simple to tell which matches your hair best.
A very easy and memorable way to understand this is to see the sub-types of hair type 2 going in an upward direction from the middle to the roots.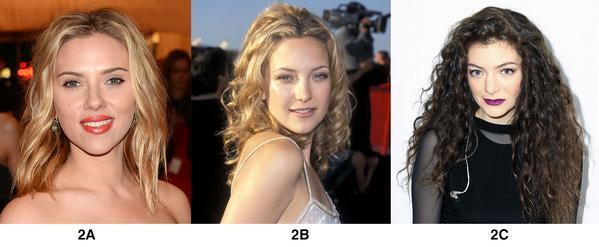 Type 2a presents slight waves and they begin much lower than the root, almost from the half down.
Type 2b goes up just a little bit, with the roots still straight. Hair type 2b also has more defined waves that go into an S shape type of wave, compared to the flowing beach waves we found in type 2a.
Hair type 2c has defined, S-shaped waves starting from the roots. (upward direction from a to c – starting from the middle up to the roots)
How To Not Damage Natural Waves
Because of the fragility of non-defined, light curls, it's possible to lose them forever if correct care is not applied.
For the washing stage, it's recommendable to use a safe, paraben, and sulfate-free shampoo.
To maintain the waves, it's important to not go any extreme – sometimes treatment shampoos designated for oily hair are too drying. Although they treat the oily scalp, they don't provide enough hydration for the longevity of the hair where the waves are.
As a solution, it's recommendable to use the treatment shampoo if needed, just to the roots. Apply a normal shampoo on the rest of the hair and rinse all at once.
If your hair is normal to dry, give it all nutrients and oils necessary. Moisture holds up curls and it might even take you from 2a to 2b if everything is done correctly until the last step.
Tips
Moving on to conditioner and masks – this step is necessary to maintain healthy-looking waves.
A very useful tip is to slightly detangle your hair while it sits with the conditioner and not brush it immediately after you rinse and dry.
Detangling while the hair is conditioned helps not break dry hair ends. It also spreads the conditioner all over and tames uncontrollable hairs.
The second useful tip for wavy hair is way more popular. This entails scrunching the wet hair in your palm in an up-down movement.
It's even more efficient if the waves are scrunched up in a 100% cotton t-shirt or microfibre hair towel. This is really the part that defines the actual curls, it also might help add waves closer to the roots.
Add hair oil on the ends for extra shine and hydration before or after scrunching. Mixing two drops of Olaplex Bonding Oil with the Olaplex No6 Bond Smoother will do an amazing job adding hydration while supporting hair's hold and definition.
Styling Products For The Most Attractive Beach Waves
Styling products often seem very general and offer a wide, universal use. However, there's no need to load the hair with unnecessary damage and glue-like strong-hold sprays.
The best recommendations for waves when it comes to styling are texturizers and hair oils. The way it works for the best results, a texturizer is applied from below the roots to just above the ends. Any texturizer can be used – Moroccanoil Texture Clay is amazing for long-lasting hold as well. The hair oil follows on to the ends to create the edgy, straight ends look.
Finish off by adding volume to the roots with your fingers – make it as messy as you want or keep it sleek for more elegant waves.
Source: Hair
Understanding Hair Type 2: Are you a hair type 2a, 2b, or 2c?