A necessary observation before going in-depth on a,b,c is the overall difference between hair type 2 and hair type 3.
While hair type 2 is envisioning curls in the form of an "S" wave motion, hair type 3 showcases spiral curls, meaning the difference between 2c which has the tightest waves is completely different from 3a, even with just a single level of curliness in between.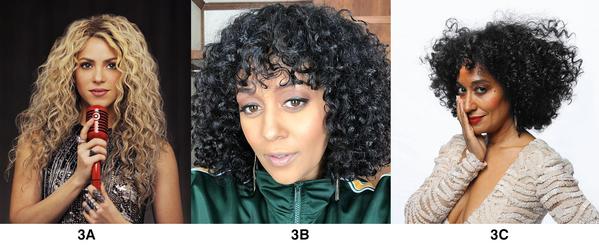 Spiral curls?
To get straight into it, hair types 3a, 3b, and 3c share a mutual shape. What this entails is that they go around an imaginary object and form a spiral.
Hair type 3a has the loosest spiral with the largest circumference, it could easily go around a carrot.
Hair type 3b forms a tighter spiral and it would be imaginable to go around a paper highlighting marker.
Hair type 3c is not only tighter than previously mentioned, it also has thinner hair strands, forming coils with more root volume. Type 3c would go around a pencil.
Is the styling and care of your curls the same as everybody else's?
Curls are a different deal when it comes to care and styling. Even the slightest difference requires specific attention and techniques that would benefit and attend to every curls' texture and mood.
Care
Starts in the shower. Choosing a natural, paraben and sulfate-free shampoo is always healthy. After that, the characteristics to look for the best curls' care are non-frizz and pro-shine shampoos and conditioners.
Oils like jojoba, argan, castor, and coconut are very important to seal in the moisture and prevent general frizz and humidity frizz.
This will help smooth the curls from the first step, making it easier when styling.
In-shower tips for curls
While hair is wet and freshly rinsed, apply your curling cream and spread it evenly with a tangle teaser or any detangler.
After hair is fully covered in cream, start taking medium to thin hair strands and roll them around your finger, scrunching them towards the roots of the hair.
Applying the cream while your hair is still wet will help with frizz and dehydration. This is available for all three sub-types of hair type 3, with a slight modification for hair type 3c, see below at styling 3c.
Styling 3a
3a is definitely the most prone to lose its shape and spiral…down. When styling, it's important to keep hair hydrated so that the curls keep smooth and shiny.
On the other side, it's quite a risk to go in with too much oil or moisturizing cream as the residue will impede the curl from looking bouncy and tight.
Middle option: lightweight oil. Hydrate while allowing hair to absorb the amount it needs without leaving greasy residues on the hair.
Styling 3b
3b has its perks and cons occupying the middle spot. The good part is, 3b curls have the necessary body to keep curly throughout the day after being styled and cared for.
Plus, they have that sexy wet wavy appearance when it rains, as opposed to 3a which gets a mixture of curls and straight hair strands from humidity.
The cons: the curlier, the more dehydrated and frizzier it can get. Before jumping on high-density oils and creams, consider offering more hydration beforehand, applying a treatment or hair oil for at least 10 minutes before washing.
This would "charge" the curl with moisture and prep them for normal scrunching in the shower and usual styling. Use lightweight curling cream and let it air-dry, cotton T-shirt dry or use the diffuser at low temperature.
Styling 3c
3c coils are not necessarily much harder to care for, although they do require some extra attention. The serious styling starts in-shower.
Remember the scrunching and spreading of the curling cream with a detangler? In the case of 3c curls, the curling cream must be applied with the fingers only to avoid damaging the curls and adding unwanted frizz.
After the cream is evenly distributed, apply a moisturizing oil like jojoba or argan oil to seal in the moisture from the cream and smooth, once again, any frizz left.
The scrunching motion must be extra delicate and slightly pushier to the roots.
After that, proceed with normal air drying, cotton t-shirt drying or if necessary, use the diffuser at low temperature.
Source: Hair
Understanding Hair Type 3: Are you a hair type 3a, 3b or 3c?